ASSOCIATE DIPLOMA OF PHOTOGRAPHY (MULTIMEDIA)
Photography and technology are rapidly becoming inseparable.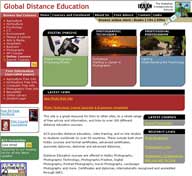 This course will give you a fantastic grounding in both photography and relevant IT skills which can be used to start your own business or work in a variety of industries. Grow your awareness of industry and opportunities; networking, and developing the sort of attitude that often makes a huge difference between successful and unsuccessful photographers.
You will learn all about photographic technology, lighting, how to take great photographs, manipulating images in Photoshop and how to write your own website.
If you want to start your own business, you can do the Small Business, Marketing and E-Commerce Modules. If you want to move more into the creative multimedia industries you could do Flash and Freelance Writing.  If you want to be a Wedding Photographer you could do the Wedding Photography module.
If you already have some experience in Photography you don't have to do the Introduction to Photography module. If you are new to the subject, however, this is where you should start.
The Research Project allows you to delve deeply into an area of interest.
Modules
Note that each module in the Associate Diploma of Photography (Multimedia) is a short course in its own right, and may be studied separately.
Aims
To furnish students with the skills required to compete in a technologically driven photography industry.
To provide students with transferrable skills which can be used in a variety of different settings.
To empower students to market and sell their own work.
What You Will Do
Learn the technical skills needed in order to take great photographs.
Learn how to digitally manipulate images.
Learn the technology required to write your own website and load your photos on to it.
Learn how to sell your work online.
---
WHAT WILL THIS COURSE DO FOR YOU?
This course is different to many others, because it goes well beyond just teaching you to take photographs. It is an "experiential based" learning program; designed to get you involved with the photography industry as you study. The industry is changing faster than ever; and will continue to change; and for ongoing success you need to become "connected" and remain "connected", so that you see and adapt to recent changes, and ongoing changes as your career moves forward.
This course would be close to two years of full time study at most colleges; however, under our system you may fast track it or take it slow. Some may complete it in one year, while others may take many years to finish the course.
To give yourself the best chance of success in this industry, a substantial course (around 1500 hrs or more) together with experience, is what is needed.
Let us help you toward a successful future in photography!
Course Features
Lectures

0

Quizzes

0

Duration

50 hours

Skill level

All levels

Language

English

Students

0

Certificate

No

Assessments

Self