GRAPHIC DESIGN
Learn to Create a Graphic Design
Business Cards, Letterheads, Web Sites, Banners, Posters, and more
Apply your artistic and photographic skills to more than just taking good photos
Expand your knowledge and skills to work in business, marketing, publishing, design (interior, architectural, landscape) or in other sections of the graphics industry.
Lesson Structure
There are 10 lessons in this course:
Scope and Nature of Graphic Design

Scope of Graphic Design
Where Do Designers Work?
Careers in Graphic Design
Skills Required
General Roles of a Graphic Designer
Nature of the Work
Art Director
Graphic Designer
Brief History of Graphic Design
The Language (Graphics Terminology)
Application Software
Examples of Software

Design Fundamentals including line, tone and colour.

Design Elements
Design Criteria
Theories of Composition
Practical Devices of Composition
Gestalt Principles of Perception
Choosing Images
Choosing Computer Formats

Colour Theory and Applications

Colour Formats
Hex Colours
Differences between types of Light
Differences in Colour
Emotional Response to different colours

Typography

How Much of an Impact?
Lettering Sizes
Typography Weight
Typography Colour
Typographical Location
Typographical Styles
Choosing Fonts

Illustration Techniques

Traditional and Modern Illustration
Methods and Techniques
Processing Images
Tonal Zone System
Sketching an Initial Design
Digital Illustration
Raster and Vector Graphics

Logotype Design

Nature of a Logo
Logo Creations
Business Card Design
Letterhead Design
Banner Design

Layouts

Getting the Message Across
Effective Organisation
Attract Attention
General Guidelines
Key Elements and Principles of the Layout
Design Processes
Software for Graphic Art

Design Systems and the Industry

Significant Design Sectors
Primary Design Areas
Scope and Nature of the Industry
Design Systems
Persuasive Design
Informative Design
Design to Educate
Design to Entertain
Design Briefs
Web Page Design

Comparative Design

Important People in The History Of Graphic Design

Design Project

Practical project applying everything you have learnt
Each lesson culminates in an assignment which is submitted to the school, marked by the school's tutors and returned to you with any relevant suggestions, comments, and if necessary, extra reading.
---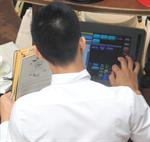 Graphic design is a skill that is used in lots of different jobs.
Landscape designers, builders, engineers and interior designers, all use graphic art skills to draw their plans and communicate with clients and colleagues.
Advertising and marketing professionals apply the same type of skills to producing advertisements, brochures, product packaging, posters and other marketing materials; for both print and electronic media.
Publishers apply graphic design to produce the layouts for the things they publish; again both electronic and printed materials.
Any new business that develops a logo, letterhead, business cards or any other type of branding is again applying graphic design.
Photography is an art form that goes hand in hand with graphic design, particularly in the modern world where so much of what we see is in an electronic format.
Graphic designers frequently need good photographs to carry out their work.
Photographers need to use graphic design skills effectively if they are to present their photos well.
Anyone who can combine the skill of taking good photos, with the ability to create a good graphic design; will vastly improve their employment prospects; not to mention the qualty of the work they produce.
In the past, good graphic design was done with a pen and paper; but in the modern world, more often than not, it is done with a computer running appropriate software programs.  The end result however might not look a lot different to how it looked when the designer was drawing with a pen. There is still, to some degree, a place for designers to be able to draw

freehand as well; even if only in the early stages of design, when brainstorming ideas or communicating with clients or colleagues.
This course leads you through an exploration of the nature and scope of graphic design, while developing some specific skills along the way, which you can use as a foundation to build upon after completing your studies.
Developing expertise as a really skilled graphic designer is a journey that takes years; but with the type of foundation you can get from this course; coupled with experience that follows, a successful graduate can continue to move their business or career path along a steady course well into the future.
Course Features
Lectures

0

Quizzes

0

Duration

50 hours

Skill level

All levels

Language

English

Students

0

Certificate

No

Assessments

Self